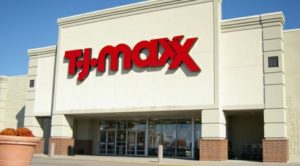 Dear TJ Maxx,
Today I visited your store for the first time. I'd always wanted to go but never gotten around to it. I needed a new pair of brown shoes for church. The cute little slogan, "You should go!" from the commercials popped into my head. So I went.
My first thought was that TJ Maxx knows the audience. As a writer, I know that knowing your audience is crucial to success. The store was laid out well. Everything was easy to find and there was enough room in the aisles for me to maneuver my shopping cart with ease.
However, I experienced a problem. A big problem that left a bad taste in my mouth. I went to try on a pair of shoes by the dressing room. I sat down on the nice bench and began chatting with the employee on duty at the fitting rooms as I tried on my cute pair of shoes.
I loved the shoes. I was sold on them.
Little did I know what would happen next. You see, I am on oxygen for most of my day. I'm allowed to be off it for a few hours at a time. I was running a bit short on the time that I had left and I needed to use the bathroom. I asked to use the handicapped accessible bathroom.
Your employee on duty said, "Oh, no ma'am. That's only for handicapped people." She was very polite and pointed me to the bathrooms on the other side of the store for regular people.
I am a four time open-heart surgery survivor. I wanted to pull down my shirt and show her my scars. But I didn't. Instead, I walked across the store to the other side, fuming. As nice as the restroom was, it did little to defuse my anger.
I bought the shoes, but as I drove out of the parking lot, I was still angry.
I drove down the strip to Ross, Dress for Less. I found a pair of shoes there right off the bat, $10 cheaper and more comfortable and that didn't leave a bad taste in my mouth. So I bought those instead and returned the other pair of shoes.
The pair from your store was adorable. I loved them. They looked really cute on me. I have a hard time finding shoes because my heels are so narrow. The strap around the ankle helped, even with my narrow feet. My feet are narrow due to my birth defects that also caused my cardiac complications. But I just couldn't wear them without being reminded of this incident.
I'm not writing this letter for my own personal gain. I want nothing from you. No money, no anything. I'm satisfied with the refund I received.
The only thing I ask is that your employees be on the look out for individuals with disabilities and invisible illnesses to know better how to serve their needs. We are your customers, too. Please consider adding more thorough sensitivity training about how to deal with this issue.
Sincerely,
Lauren Orbison